Oscar Levant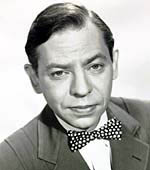 "Oscar Levant is a character who, if he did not exist, could not be imagined." These words were used by Levant's great friend, S. N.("Sam")Behrman, to describe him. No truer words were ever spoken! In his lifetime, Oscar Levant flourished as (and subsequently gave up each, one by one) gifted composer, concert pianist, radio personality, movie star, successful recording artist, best-selling author, talk-show host and quiz show panelist. Whew! It was what he described as his Noel Coward Principal he managed "to break off his jobs at a certain interval." He appeared in thirteen movies, including "An American In Paris", "The Band Wagon", "Humoresque" and the George Gershwin biograpy, "Rhapsody in Blue", in which he played "an unsympathetic part… myself."
Levant made some 100 recordings on 78 and 33 1/3 rpm discs, with such greats as Eugene Ormandy and the Philadelphia Orchestra, Andre Kostelanetz and the New York Symphony, and Arturo Toscanini and the NBC Symphony Orchestra. He composed the music for many popular songs, including "If You Want the Rainbow(You Must Have the Rain)" for Fanny Brice, "Lady, Play Your Mandolin" and one that has become a standard: "Blame It On My Youth", which has been recorded by Bing Crosby, Frank Sinatra, Nat "King" Cole, Gordon MacRae, Rosemary Clooney and Michael Feinstein, among others. He also composed serious piano and orchestral music, including a piano sonatina, a piano concerto and a work for string quartet. Levant wrote the opera, "Carnival", for the movie "Charlie Chan at the Opera", which remains the only opera ever to be written expressly for a movie. He also wrote the musical scores for successful movies such as "Nothing Sacred"(1937)starring Carol Lombard, and "Made For Each Other"(1939).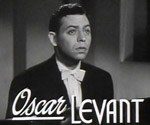 In his film debut in "Four Daughters"(1938), actor John Garfield based his character, Mickey Borden, on Levant's personality and physical appearance. The character made Garfield a star. A young Nora Johnson, daughter of screenwriter-producer Nunnally Johnson, based her hero worship of a pianist on Levant in her novel, "The World of Henry Orient", which was turned into a film in 1964 starring Peter Sellers.
Levant was an astonishingly gifted concert pianist who, in his heyday of the 1940's and early-to-mid 1950's, earned more money than any other pianist in America. In the 1930's, before he gained his real fame, Levant was dubbed "the wag of Broadway" by Michael Mok in the New York Post. In the 1940's, at the height of his fame as a wit and bad boy, he was known as "the enfant terrible." In the 1950's and '60's, after mental illness and drug abuse had taken their toll, Levant was known as "America's favorite neurotic." He sporadically appeared on The Tonight Show with Jack Paar to talk candidly about those subjects, being the first well-known personality to do so. He coined a now-famous phrase: "There is a fine line between genius and insanity. I have erased that line." Author Christopher Isherwood described Levant as a character created by Dostoevsky someone "completely unmasked at all times."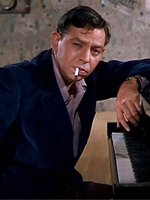 Oscar Levant possessed "a far-ranging intellect and shattering wit," wrote screenwriter Adolph Green. "He had a quality. . . the mysterious ability to transmit to an audience a feeling of imminent danger – a sense that he was liable suddenly to do something totally unpredictable and devastating." He was a master of the one-liner and the insult. In his biography by Sam Kashner and Nancy Schoenberger, it is stated that "to be put down by Oscar Levant meant being part of an elite Hollywood club." He playfully said of a former movie co-star, "I knew Doris Day before she became a virgin." He dubbed Elizabeth Taylor "the Other Woman of the Year." Of Joe DiMaggio's divorce from Marilyn Monroe: "No man can excel at two national pastimes." He said to Jack Paar: "You're so full of charm. That's something I never stoop to." The perennial bachelor, playwright Moss Hart, attended a party in New York, accompanying the beautiful actress Edith Atwater. When the two entered, Levant quipped, "Ah, here comes Moss Hart and the future Miss Atwater." "An evening with George Gershwin is a George Gershwin evening," Levant said of his almost arrogantly confident best friend. And: "Tell me, George. If you had to do it all over again, would you still fall in love with yourself?" Indeed, in spite of his many talents, it was this talent as a world-class wit that assured him of lasting fame.
In the late 1950's Levant hosted a popular Los Angeles talk show that he jokingly called "Disgrace the Nation." Many famous and popular radio, TV and movie personalities made guest appearances on The Oscar Levant Show. Fred Astaire made his television debut on Levant's show("Fred, I'm so suffocated by nostalgia and so unhappily happy, that I cannot speak – which is one of the great public services of all time."). It was also a forum for famous politicians, writers, poets and playwrights, such as Aldous Huxley, who said of Levant, "He represents intelligence – something all of us can use more of." In his own words, Levant made "insanity America's favorite hobby." His show "became syndicated, going to The Menninger Clinic in Topeka, Bellevue in N.Y. and the psychiatric ward at Mount Sinai in Los Angeles."
His three autobiographical books all made the non-fiction best sellers' list: "A Smattering of Ignorance", "Memoirs of an Amnesiac" and "The Unimportance of Being Oscar". Though he never considered himself a literary talent, the books are wildly funny, frank and full of anecdotes about his experiences on the concert stage, radio, television and films, as well as the many famous people he became acquainted with over his wild roller coaster ride of a life. In his own words: ". . . in the vale of neurosis, I offer you some of my friends and foes and moments from my past and present." George Gershwin, Harpo Marx, George F. and Beatrice Kaufman, Judy Garland, Fred Astaire, Leonard Bernstein, Clifford Odets, John Garfield, Bing Crosby, Mary Martin, Gene Kelly, Barbra Streisand, and many more found their way into Levant's books. Of "Memoirs of an Amnesiac", Groucho Marx quipped, "Anyone who doesn't like this book is healthy!"
Oscar Levant died in 1972 at the age of 65 from a second heart attack, peacefully, in his sleep. His first heart attack in 1953 brought his glory days to a close, for he soon became addicted to the painkiller Demerol. What followed were countless drug withdrawals, hospital incarcerations and eventual mental and physical decline. Previously, he had been crippled by superstitions and a complex system of rituals designed to fend off the terrors of performing. The combination would prove to be lethal to his career. Even so, his life remains a constantly fascinating and irresistible subject to those who take the time to discover it.
"It's not what you are – it's what you don't become that hurts." Oscar Levant
Dixie L. Burge