Big Band movies
"Artists And Models" (1937) with Jack Benny, Ida Lupino, and Louis Armstrong's band.
"Around the World" Kay Kyser
"As Thousands Cheer" with Bob Crosby, Kay Kyser and their bands.
"Atlantic City" Louis Armstrong.
"Babes Of Swing Street" with Ann Blyth & Andy Devine – how's that for casting?
"Ball of Fire" that features Gene Krupa and his band performing Drum Boogie.
"Bathing Beauty" with Harry James and Xavier Cugat.
"Beat The Band" has the Gene Krupa Orchestra doing Shadow Rhapsody and I'm in Love.
"The Benny Goodman Story" – The real Benny Goodman does the soundtrack!
"Best Foot Forward" with Lucille Ball, June Allyson, Nancy Walker and Harry James and Orchestra performing One O'Clock Jump and Flight of the Bumble Bee.
"Birth of the Blues" Bing Crosby and Jack Teagarden.
"Blues In The Night" (WB-1941) with the Jimmie Lunceford Orch.
"Broadway Rhythm"
"Cabin in the Sky" Duke Ellington.
"Carnegie Hall" with Arthur Rubenstein, Jascha Heifitz, Leopold Stokowski and Vaughan Monroe, without his band.
"Change Of Heart" also featured Count Basie & Ray McKinley.
"Cinderfella" with Jerry Lewis; has Count Basie's band. Jerry Lewis' other films have great big band pieces too.  Les Brown is in "The Nutty Professor".
"Cross My Heart" with Betty Hutton, Sonny Tufts and the Les Brown band.
"Dancing Co-Ed" with Artie Shaw and a performance of Traffic Jam.
"Date with Judy" with Xavier Cugat
"Do You Love Me?" (TCF-1946) with Dick Haymes, Maureen O'Hara and Harry James and his band.
"Five Pennies" Louis Armstrong.
"Follow the Boys" Freddie Slack and Louis Jordan.
"Gals Incorporated" (1943) with Harriet Hilliard and The Pied Pipers.
"The Gene Krupa Story"
"George White's Scandals of 1945" has the Gene Krupa Orchestra. Leave Us Leap.
"Girl Crazy" the Tommy Dorsey Orchestra.
"Glamour Girl" the Gene Krupa Orchestra. Plays Gene's Boogie.
"The Glenn Miller Story".  Great movie.
"Hat Check Honey" Freddie Slack.
"Here Comes Elmer" includes the Nat King Cole Trio, Dale Evans and Pinky Tomlin.
"Hi Good Lookin'" the Ozzie Nelson Orchestra.
"Hi-De-Ho" features Cab Calloway.
"Hit Parade" (of 1943) with Basie & McKinley!
"Hit Parade" (of 1947) with Eddie Albert, Kid Ory & William 'Fred Mertz' Frawley.
"Hit The Ice" the The Johnny Long Orchestra. (an Abbott and Costello movie).
"Holiday Inn" Bob Crosby's band.
"Hollywood Canteen" Jimmy Dorsey and Carmen Cavallero.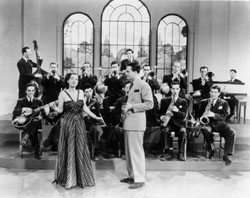 Helen Forrest (left)
"Hollywood Hotel" with Benny Goodman's 1937 band features Gene and a performance of Sing, Sing, Sing.
"Honeymoon Lodge" stars the Ozzie Nelson Orchestra.
"I Dood It" with Jimmy Dorsey and his Orchestra.
"Iceland" stars Sammy Kaye's Band.
"Jam Session" has the Casa Loma, Charlie Barnet, Alvino Rey and Jan Garber Orchestras.
"Juke Box Jenny" has the Charlie Barnet band.
"King of Jazz" (1931) starring Paul Whiteman and his Orchestra.
"Luxury Liner" Xavier Cugat.
"Make Believe Ballroom" Gene Krupa, Ray McKinley, Peewee Hunt, etc.
"Make Mine Laughs" with Ray Bolger, Dennis Day and Frances Langford: stars the Frankie Carle Orchestra.
"Make Mine Music" Benny Goodman plays After You've Gone and All the Cats Join In. (awesome stuff!)
"Manhattan Merry-Go-Round" with Phil Regan, Leo Carillo, Kay Thompson, the Ted Lewis Orchestra, Gene Autry and Joe DiMaggio.
"Many Happy Returns" with Burns and Allen.
"Mayor Of 44th Street" with George Murphy.
"Meet The People" (MGM-1944) Lucille Ball, Dick Powell, Virginia O'Brien, Spike Jones & His City Slickers. This was the last movie musical Dick Powell made.
"Melody Parade" Charlie Barnet Orchestra plays Skyliner, and Redskin Rhumba.
"Music In Manhattan" the Charlie Barnet band.
"My Favourite Spy" Kay Kyser and his band.
"New Orleans" (UA-1947) with Louis Armstrong, Billie Holliday and Marjorie Lord (of TV's 'Danny Thomas Show') and Woody Herman.
"No Leave, No Love" with Van Johnson, Keenan Wynn, and the Xavier Cugat Orchestra.
"Orchestra Wives" the Glenn Miller Orchestra.
"Presenting Lily Mars" with Bob Crosby, and Tommy Dorsey and his band, and a performance of Broadway Rhythm.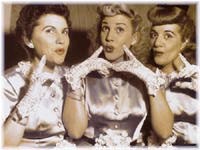 The Andrews Sisters (left)
"Private Buckeroo" with the Andrews Sisters, Dick Foran, Joe E Lewis, and Harry James and his Orchestra.
"Reveille With Beverly" starred the bands of Bob Crosby (Big Noise from Winnetke), Duke Ellington (Take the 'A' Train) and Count Basie (One O'Clock Jump).
"Rhythm Parade" the Mills Brothers.
"Rockabilly Baby"
"Sarge Goes To College"
"Second Chorus" with Artie Shaw's Orchestra doing Concerto for Clarinet.
"Sensations of 1945" with Woody Herman and Cab Calloway.
"Seven Days Ashore" features Margaret Dumont, Virginia Mayo and the almost-forgotten Freddy Fisher & His Schnickelfritzers.
"Seven Days Leave" with the Les Brown band, and Freddy Martin and his band.
"Ship Ahoy" featuring Frank Sinatra and Tommy Dorsey's band. Hawaiian War Chant.
"Silver Skates"
"Sing Your Worries Away" with Alvino Ray Orchestra.
"Some Like It Hot" – starring Bob Hope, Shirley Ross and Gene Krupa.  Krupa was actually a co-star and shared many scenes with Hope and Ross. His orchestra was featured extensively, with such classics as Wire Brush Stomp and Blue Rhythm Fantasy. (I think there are two films with this name, so this one is otherwise known as "Rhythm Romance")
"So's Your Uncle" Jack Teagarden Orchestra.
"Song is Born" Goodman, Dorsey, Armstrong, Hampton, etc.
"Springtime In The Rockies" with Betty Grable, John Payne, Carmen Miranda, and Harry James and his Orchestra.
"Springtime in the Rockies" with Harry James and his Orchestra.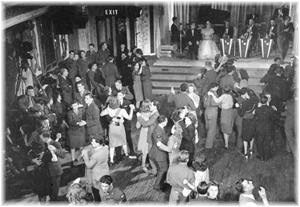 Stage Door Canteen (left)
"Stage Door Canteen" – also stars: Guy Lombardo, Benny Goodman, Xavier Cugat, Freddy Martin, and Count Basie. Benny plays Why Don't You Do Right, and Bugle Call Rag, which really jives.
"Start Cheering" (1938) with Jimmy Durante, the 3 Stooges, Broderick Crawford, and the Louis Prima Orchestra.
"Stormy Weather" with Bill "Bojangles" Robinson, Lena Horne, Cab Calloway, Fats Waller, and Ada Brown with Aint Misbehavin' and Jumpin' Jive. J
"Sun Valley Serenade" Glenn Miller Orchestra!
"Sweet And Lowdown" Benny Goodman Orchestra.
"Sweetheart of Sigma Chi" a 1933 movie in which Betty Grable was a member of the band.
"Sweethearts of the USA" Jan Garber band.
"Swing Kids" all Benny Goodman tunes.
"Take It Big" the Ozzie Nelson Orchestra.
"The Duke is Tops" – with Lena Horne, Ralph Cooper, and The Cats and the Fiddle.
"The Fabulous Dorseys" – also has guest appearances of Paul Whiteman and his Orchestra. They play Marie, Green Eyes, etc.
"The Fleet's In" with Jimmy Dorsey and band playing Tangerine, and Amapola.
"The Gang's All Here" with Benny Goodman playing two tunes, and a bevy of banana toting girls.
"The Ladies Man" (1961) with Jerry Lewis, Vicki Benet, and Harry James.
"The Sky's The Limit"
"The Strip" (MGM-1951) with Mickey Rooney, Vic Damone and Louis Armstrong.
"Thrill Of A Romance"
"Time Out For Rhythm" (1941) with Rudy Vallee, Ann Miller & The Three Stooges: stars the Casa Loma Orchestra playing Boogie Woogie Man.
"Twenty Million Sweethearts" stars the Mills Brothers.
"Two Girls and a Sailor" there's something of a story to this one also but it really just covers a huge revue of Harry James (plays a few tunes), Xavier Cugat, Gracie Allen, Lena Horne, several more… and Jimmie Durante performing Inka Dinka Doo!
"Variety Show" with Fred Waring and his band.
"Weekend at the Waldorf"
"What's Buzzin' Cousin" with Lucille Ball, Victor Mature, Arnold Stang, and Ginny Simms: with the Les Brown Orchestra.
"What's Cookin'" Woody Herman plays Woodchopper's Ball.
"Winter Time" Woody Herman and Orchestra. 1943.
"You Were Never Lovelier" with Xavier Cugat.
"You'll Find Out" with Kay Kyser.
Disney's "Melody Time" features Fred Waring and the Pennsylvanians performing the soundtrack for a segment titled "Trees"…the Joyce Kilmer poem set to music and artwork. Also in the film is Freddy Martin and his Orchestra performing a jazz interpretation of The Flight of the Bumble Bee. "Melody Time" was made in 1948 and is still a wonderful film.
Compiled by David Mulliss.