Helen Forrest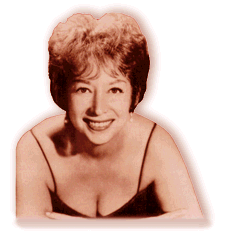 Helen Forrest was born on April the 12th, 1918, and must have been quite talented musically when she was young, as she first began singing in her brother's band.
Helen Forrest began performing on CBS as "Bonnie Blue." She used other names early in her career such as the "Blue Lady." She also performed on NYC's WNEW radio station with trumpeter Bunny Berigan.
Artie Shaw had her join the band after he'd seen her performing at the Madrillon Club in Washington. She replaced Billie Holiday and she stayed with the band for 15 months until Artie Shaw took a break from the band business and went to Mexico. With Artie Shaw, she recorded about 40 sides including such beautiful songs as: "All The Things You Are," and "I Poured My Heart Into A Song."
Joined Benny Goodman in December 1939, making her debut with him at the Waldorf on December 11. She replaced Louise Tobin who had left the band to have a baby. Helen married Harry Jaeger, a drummer who played in Goodman's band.
She left the Goodman band in August 1941 and joined Harry James' band. Benny Goodman then hired another young female vocalist called Norma Egstrom (Peggy Lee).  Helen left the Goodman band because it had been quite stressful for her, and she also wanted to move on. However, any disagreement Helen had with Benny's way of doing things was never noticeable on recordings: Helen always shined. e.g. "Perfidia," "You're Dangerous," etc.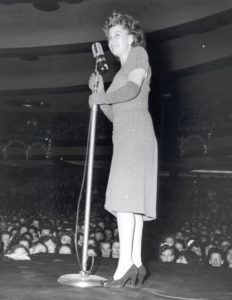 "I decided to contact Harry [James]. I loved the way he played that trumpet, with that Jewish phrasing, and I thought I'd fit right in with the band. But Harry didn't want me because he already had Dick Haymes to sing all the ballads and he was looking for a rhythm singer. Then Peewee Monte, his Manager, had me come over to rehearsal, and after that the guys in the band took a vote and they decided that they wanted me with them. So Harry agreed."
Harry James went further to feature and enhance Helen Forrest's voice. He had the band's arrangements built around his trumpet and her voice.
Not only did Harry James' sidemen love having Helen Forrest as the singer, but most of the musicians in the other bands that she sang in enjoyed her presence. Chris Griffin, a trumpeter in Benny Goodman's band, said "She always had a great sound, and excellent phrasing ability. Helen was just a naturally fine singer, probably the best big band vocalist around at the time."
At different times she also recorded with the Nat King Cole Trio, Lionel Hampton and Tommy Dorsey's band in the 60s (the band was then led by Sam Donahue.)
Helen could fit it in beautifully with any band or musical setting. She was always warmly emotional, musical, swinging, polished and had such effective and delightful phrasing. Songs like "Nobody" also demonstrated her sense of humour. Her voice matched the band: she was not just an instrumentalist.
Gunther Schuller in his excellent book, "The Swing Era" writes on page 34: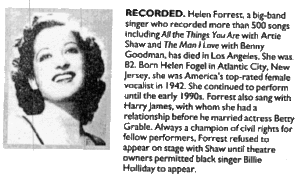 "Helen had impeccable taste; there is not a single song that she didn't somehow elevate by her uncanny musical sensitivity and fine ear for accurate pitch and subtle nuances… and she knew how to use dynamics and timbre to shade and shape a song, to bring out highlights, and to lead from one phrase intelligiently to the next." She began her solo career in 1943. Her album, "Embraceable You" was recorded with Carmen Dragon's orchestra in 1949. Helen also made several films, toured and continued to make appearances with different big bands. She soon recorded a number of albums such as "I Wanna Be Loved" and later, "Studio Sessions" in 1983.
Helen Forrest passed away on the 11th of July, 1999.