Harry James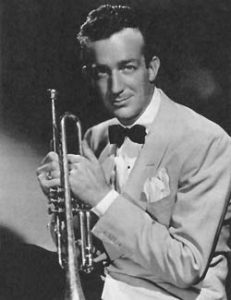 Harry James
b.March 15, 1916, Albany, Georgia, USA. d.July 5, 1983, Las Vegas.
Harry James' father Everette James, was a trumpeter and led a circus band with the Mighty Haag Circus. His mother Maybelle, was a trapeze artist with the circus. Harry began playing the drums when he was four and began playing trumpet when he was eight. He joined the circus band the next year and was leading it by the time he was twelve.
Then their family moved to Beaumont Texas, and at 15 Harry James began playing in local dance bands. When he was with Herman Waldman's band Ben Pollack heard him and had him join. He was a member of Ben Pollack's band until he joined Benny Goodman's Orchestra in December 1936, when he was twenty. Goodman had heard him playing on a Ben Pollack record "Deep Elm."
Here he starred in BGs recordings such as "Sing, Sing, Sing" and "One O'Clock Jump." Benny now had a really strong, exciting trumpet section with Harry James, Chris Griffin and Ziggy Ellman. James was featured often and became a very popular and highly respected musician.
At 23 he decided to go solo and with Benny's best wishes and some financial support he left Benny in late December after about 3 years with the band. His distinctive style and remarkable virtuoso technique was the main factor of his success. He could play dolce and dolcissimo, and could play deafeningly loud when he wanted to. Also his chromatic glissandos were especially noteworthy.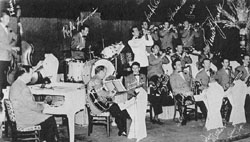 James discovered Frank Sinatra (left, in centre of photo) in July of 1939. James had heard him on radio singing with Harold Arden's band in New Jersey. So the next night Harry travelled over to find out who he was. With Sinatra in the band by July the 13th they recorded "From The Bottom Of My Heart" and "Melancholy Mood." Sinatra was a bit nervous at this first recording session, but James, seeing his potential, supported and helped him develop, and they became close friends. Sinatra stayed with them for about a year until Tommy Dorsey had him join his Orchestra. James let him out of the contract to let him take up this new opportunity: the band was also going through a bit of a rough spot financially.
Dick Haymes then became James' vocalist. And from '40-'41 James helped get the most out of his romantic baritone voice. Haymes made many great recordings including a lyrical "Ol' Man River" and "I'll Get By."
Connie Haines was also one to leave the James band and join Tommy Dorsey. Lynn Richards, Kitty Kallen, and several others talented vocalists sang in the band, as well as Helen Forrest. Forrest and James seemed to inspire each other in recordings, creating magnificent performances.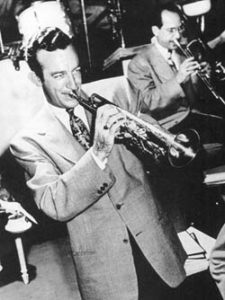 "Playing what you want to play is good for a man's soul, you know."
Harry's manager Frank (Pee Wee) Monte also helped guide the James band to success, and also helped get Helen Forrest into the band.
On May 20, 1941 the band recorded "You Made Me Love You" mostly because James loved the way Judy Garland sang the song.
By the end of 1941, the band was rated the best in the country. The band's success was assured by Harry James' ability to exceed the audience's expectations: especially with those beautiful ballads and James could get the band to swing at the right tempos for the dancers. His band also used strings to great effect. There were brilliant soloists too, such as Sam Donahue and Vido Musso on tenor sax, and Dave Matthews on alto.
"I've Heard That Song Before," sold 1.25 million copies. "Velvet Moon," and "You Made Me Love You," both sold over a million copies. "All Or Nothing At All," also sold about a million records. And all that gave Columbia records a shellac shortage!
Around this time Harry had acting roles in several films with the band. Some of the films he appeared in under contract to MGM and 20th Century Fox included: "Bathing Beauty" "Best Foot Forward" "Two Girls and a Sailor" "Springtime in the Rockies" "If I'm Lucky" "Do You Love Me" "I'll Get By" In "Outlaw Queen" James played a dramatic role without trumpet and Band.
In the spring of 1942 Harry James and his band played the Paramount Theatre in New York, which caused traffic jams and riots that all the newspapers wrote front page articles about. The crowds began lining up in the early hours of the morning, and policemen had to be called in to control the mostly young crowd.
On July 5, 1943 Harry James married Betty Grable — the number one pin-up girl at the time.
A recording ban didn't help the band around '42-'43, but in '44 his band recorded again, including "I'm Beginning To See The Light" with vocals by Kitty Kallen – the performance recapturing the swing style of "I've Heard That Song Before."
At the end of 1946 he disbanded, but the next year he started another band – this time without all the strings. This new band had the original drive that made the Harry James so successful earlier. Another reason was because he had the musicians who wanted to play, so he couldn't resist.
But more than that… Harry James' innovation, dedication and talent made him one of the most popular trumpeters, with audiences and musicians alike. He kept a full sized band after the big band era, and did coast-to-coast tours. His band had been a great crowd-drawer in Las Vegas until the establishments there decided to make gambling machines the attraction instead of an awesome big band.
His 50s band introduced new charts by Neal Hefti and Ernie Wilkins. It had such distinguished sidemen as Buddy Rich, Corky Corcoran, Juan Tizol and Willie Smith. From the seventies to early eighties his band was the busiest in the land and had to extend their tours, because the gigs would sell out. He also played at Roseland's Dance City in NYC, in 1972, and toured Europe and Argentina.

His last performance was on June 26th, 1983, nine days before his death. He observed, "Let it just be said that I went up to do a one-nighter with Archangel Gabriel."