Benny Goodman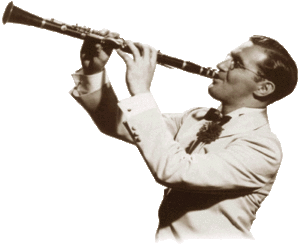 Benny Goodman (born Benjamin David in Chicago in 1909) first started playing clarinet at a local Chicago synagogue when he was about ten. He learnt the clarinet with the help of a former musician of the Chicago Symphony Orchestra. A year later he was playing in the pit band of a local theatre. He also played at school dances and other local events.
In August 1925, at age 16, he joined Ben Pollack's Orchestra after playing around Chicago. He made his first recordings in 1926, and made his first recordings under his own name in 1928.
Benny Goodman played in the bands of leaders such as Red Nichols (from 1929 to 1931), Isham Jones, Ben Selvin, and Ted Lewis. In these bands, the sidemen included guys like Tommy Dorsey, Glenn Miller, Joe Venuti, Jack Teagarden, Jimmy Dorsey, Eddie Lang, Gene Krupa, Dave Tough, and Fats Waller. He also worked in pit bands for Broadway musicals and did freelance work for radio bands.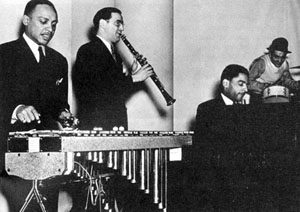 He appeared in Radio Shows such as his popular show "Let's Dance", the "Camel Caravan," and the "Victor Borge Show," and a biography was written about him in 1939 entitled "The Kingdom of Swing." Benny made an impressive amount of records at this time of his career. Benny even managed to do some recording for cartoons and the "talkies."
The summer of 1932 saw Benny organise his first band which starred singer Russ Columbo. The second band that he formed (in 1934) got a job at Billy Rose's Music Hall. This band made some great recordings and began appearing on the 3-hour NBC radio program called "Let's Dance."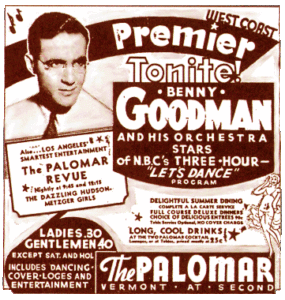 After this, the Benny Goodman Orchestra began touring (with not so fantastic results) until August 21, 1935, when the Benny Goodman Orchestra opened in the Palomar Ballroom (left) in Los Angeles. After playing a few dance tunes, he told the band to play some Fletcher Henderson arrangements. The mostly young crowd promptly started something of a riot. After this public approval of the music – this thing called "Swing" – there was no looking back!
The January 16 concert in 1938 at Carnegie Hall was also a great success. The fifteen musicians at that concert included Jess Stacy, Gordon Griffin, Hymie Schertzer, George Koenig, Allen Reuss, Vernon Brown, Red Ballard, Arthur Rollini, Babe Russin, Harry Goodman (on string bass) and Martha Tilton as vocalist.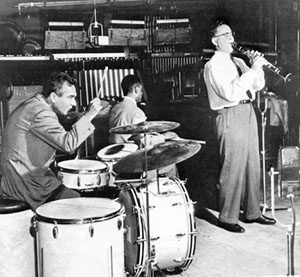 As well as his Big Band, Goodman featured his Trio (left), Quartet, Quintet, Sextet, and Septet. Benny Goodman's orchestra's sound was contributed to by the highly talented arranging skills of Fletcher Henderson, Mel Powell, Eddie Sauter, and many others. The combined work of Benny Goodman and band, Eddie Sauter and Helen Forrest is especially notable, with such songs as "Perfidia," "Lazy River" and "Smoke Gets In Your Eyes."
Benny approached all his recordings and performances with style, taste, maturity, timing, and technical mastery. He was a highly-influential, and formidable musician, who, like other bandleaders of the time, set unequaled standards in popular music (before or since).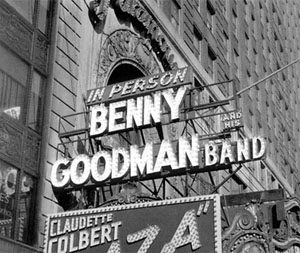 Interestingly enough, Benny also made recordings playing instruments other than clarinet. On a few occasions in his career he played alto sax. At other times, he made recordings playing bass clarinet, baritone sax, soprano sax, tenor sax, and even cornet. You can even catch Benny singing on a few recordings, such as "Gotta Be This Or That" with Jane Harvey, one of Benny Goodman's many talented vocalists.
Benny Goodman and his band starred in such movies as Hollywood Hotel (1938), The Powers Girl (1943), The Gang's All Here (1944), Sweet and Lowdown (1944) and Stage Door Canteen. "The Benny Goodman Story," a film made in 1955, depicted Benny Goodman's life, and Benny recorded the sound track for it.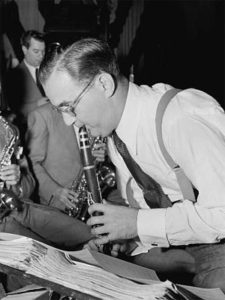 Benny Goodman spent several years studying classical music, and frequently played with small chamber groups and became a virtuouso clarinet soloist with symphony orchestras under such conductors as Bernstein, Toscanini and Ormandy. He performed new orchestral works of Bartok, Stravinsky and Copland.
In the 1950s to the 1970s he continued making lots of amazing recordings and performances, working with many of the greats in the jazz world. He made several overseas trips and played at selected engagements with a small band, or, he would form a big band where he arrived, or even play in a full symphony orchestra. Benny also made a trip to Russia in 1962. In January 1978 he returned to Carnegie Hall to do a Concert – 40 years after the first Carnegie Hall Concert in 1938. The tickets all sold out the first day!
His last studio recordings were made in January 1986.
Audio Samples
Benny Goodman's first solo recording – Wolverine Blues (1928)
Benny Goodman in the circa 1930 recording of Strut Miss Lizzie (1929)
Benny Goodman Quartet – Moonglow (1936)
Benny Goodman Trio – Body and Soul – Carnegie Hall (1938)
Benny Goodman Big Band, Six Flats Unfurnished
Benny Goodman Big Band, Jersey Bounce